Roman Provincial Town
Among the "not to be missed" sites in Athens, Greece, are the Acropolis, with its majestic Parthenon, the Ancient Agora, which functioned as the political, administrative, social, and commercial center of ancient Athens, and the charming Plaka district, the oldest district of modern Athens, which hugs the slopes of the Acropolis, and beckons the tourist late into the night with souvenir shops and restaurants. The Parthenon was built in the 5th Century B.C., the century that historians generally recognize as the "golden age" of Athens. However, many of the other classical ruins that the modern visitor sees today in Athens, were built in a later period when Athens was a province of the Roman Empire.

Today, when you enter the Ancient Agora you will see that the map of the site depicts the Agora as it existed in 120 AD, during the reign of the Emperor Hadrian, a notable philhellene. At that time many ancient Greek buildings were still standing, but standing alongside Roman buildings, such as the magnificent Odeon of Agrippa. On a secluded spot in the Agora, note the headless statue of Hadrian wearing armor which some scholars say depicts Hadrian's view of the relationship between Rome and Athens: the goddess Athena is crowned by divine personifications of victory, while standing on a she-wolf suckling the baby boys Romulus and Remus.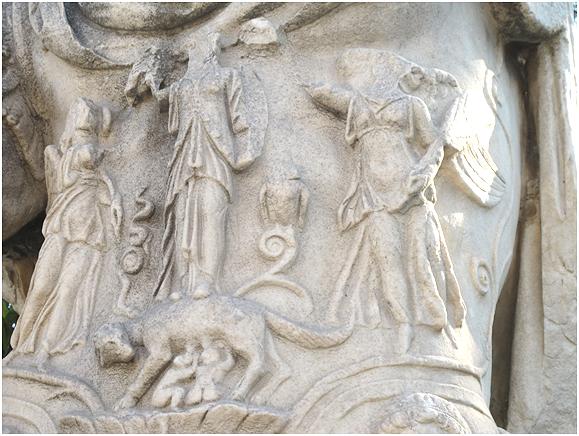 Hadrian left his mark all over Athens. He provided the funds which helped to finish the huge Temple of the Olympian Zeus, which stood just outside the walls of Ancient Athens, and to honor him for his many contributions to the city, the Athenians built the Arch of Hadrian around 131 A.D. But perhaps Hadrian's most significant contribution to Athens was his impressive Library, a combination of library, study and lecture halls and courtyard surrounded by a wall and colonnade. Hadrian's Library sits near the Roman Agora ("Forum), which was built between 19 and 11 B.C., as commercial marketplace.

There is a little taverna, called "Veranda" which abuts one corner of the ruins of Hadrian's library. If you choose a good seat, on one side will be the ruins, and on the other, a view of the Acropolis. It is a great place for a cocktails and "mezedes" (the Greek version of tapas). Enjoy the sunset and contemplate the beauties of Ancient Greece, and the contributions of Rome. Afterwards, follow "Odou Adrianou" (The Street of Hadrian), which runs around the Acropolis through lively Plaka.

MelandraII
Next Page
ECCE V Contents