To New York from Somerset for a SeniorLearn Soirée
Surfing the net one day I happened to find an American Website called "Senior Learn" that taught the Latin Language online. I promptly signed up to start the following September. The year previous I had joined a beginner's Latin class at a College in Bridgwater Somerset England. I had previously learned Latin at my Grammar School in London and had always loved everything Roman! But I had not studied any of the language for over 50 years.

The book that I was asked to use by Senior Learn was "Latin for Americans" which I loved using because the way that the language was taught was so similar to how I had been taught at school. As well as that I could get the books I needed very reasonably priced from Second Hand booksellers in the USA and the charges for the classes too were very reasonable.

After studying for a whole year, I was persuaded by my teacher, Ginny Andersen, to sit for the American National Latin Exam, albeit an elementary one. But I was delighted to receive a certificate and a medal!

I studied with a group who lived all over the States and Canada. I was the only Brit in the class. They were such a friendly bunch of people and when I saw that some were going to meet up in New York for five days I so wanted to meet them and put faces to a names! Also I had never been to New York before and thought there was no better way to see it other than with natives!

Luckily Continental airlines run planes from Bristol to Newark, New Jersey and, as I only live a half hour journey from the airport, the whole journey was effortless! The flight took 7 hours and it was a pleasant flight that went quickly.

Ginny and Andrea, who was a member from the other part of Senior Learn -- the book club, had also flown into Newark so they waited for me and held a sign up with my name! I felt like royalty. We shared a cab to our hotel, which was in downtown Manhattan. The Hotel was called "The Leo" and run by a group of retired Roman Catholic Nuns. It was friendly, very reasonably priced and a central place to stay. The staff was helpful and I enjoyed my stay there immensely. I had my own room and I felt at home.


The first evening we dined in a Restaurant at the foot of Brooklyn Bridge called "The Bridge Cafe" in a very old part of the Town and I met my classmates. The restaurant had been built in 1784 and it had a lot of character. It was obviously very popular as it was full and the food and service were excellent. I tried a local speciality called soft crab!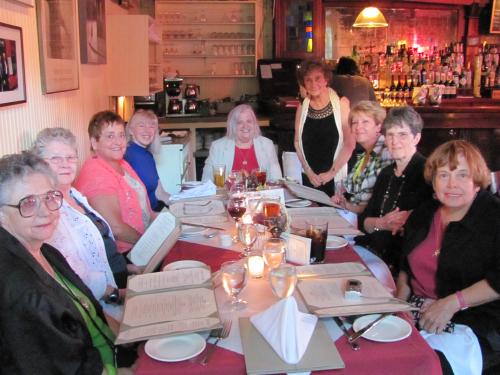 During the Summer Break some of us students were allowed to join a group and translate without our teacher which I thought was a wonderful idea. I chose to join the group reading "Cambridge Latin Book III" to follow on from what I had studied previously in the UK. Lucy, a New Yorker who was in my summer group, had very kindly organised for us a trip on the river Hudson the next day.
Second day Friday 10th September 2010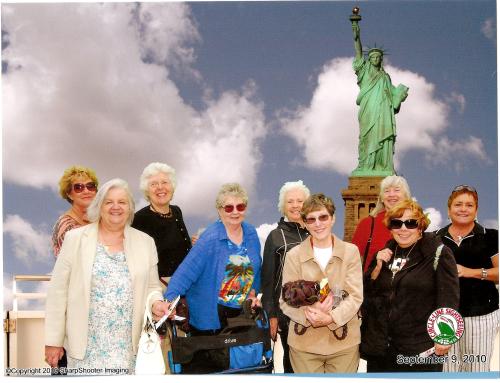 We got to the Quayside and boarded the boat for the trip around Manhattan. Because there was a high tide, we were unable to complete a round trip, as the boat would not have been able to go under all the bridges. We had an excellent guide who gave us a most informative commentary and told many interesting facts about Manhattan as well as naming all the skyscrapers and other buildings and places of interest. We went under Brooklyn Bridge, saw the Statue of Liberty and Ellis Island and saw the spot where the plane had landed on the Hudson, which was at pier 88. Because I had seen many American movies, it was great to see the buildings that I recognised in real life. Some of the older buildings had unusual looking water towers on the tops. The highlight of the boat trip for me was to see the Statue of Liberty close up. It was marked by the group having our photograph taken with it in the background!

After the trip we went to Chelsea Market for lunch. There were many food outlets and we found a table which one of us had to stay at whilst the others all went to choose what to have. Some of the choices were Thai food, fresh lobster/crab, fried chicken, burgers, Italian, Chinese, fresh sandwiches, gelato, cupcakes, and so much more." It was just a treat to look at all the different foods on offer and difficult to decide what to have!

In the evening Ginny had very kindly bought me a ticket to see "Million Dollar Quartet" at the Nederlander Theatre. I was so excited at the prospect of seeing Gerry Lee Lewis in the flesh! As a teenager I loved Elvis Presley, Johnny Cash, Carl Perkins and Jerry Lee Lewis as well as Chuck Berry, Fats Domino, Little Richard, Sam Cook etc.

Before the show started I went with Ginny and Andrea for dinner to the Hotel Mariott Marquis where there was a revolving restaurant at the top of a skyscraper . This was near Broadway. The food was superb but the views were breathtaking! Just going up in the lift was an experience not to be missed; it went so fast and I had a chance to look at all the floors on the way up!

I had a napkin with a diagram of all the buildings numbered and their names on a list and Ginny and Andrea gave me a commentary too. This was such a delightful experience for me!

But what was to come was even better! I had a wonderful seat in the theatre quite close to the front on the left side of the stage. I had a great view and when Gerry Lee Lewis came on stage his piano was also on the left so I had could see him very well! When he was playing the joint was really jumping! I didn't want it to end. I thoroughly enjoyed the show and listening to all the songs from the late 50s. It was a joy the actors were also great singers and their portrayals so like the originals.

Just before the lights went down there was a bit of a commotion with a large group of people arriving to take their seats in the middle of the same row as myself. I thought that it was Jerry Lee watching the show. After the show finished I went outside and noticed a large black limo and lots of police. I asked who this was for and was told that former President Bill Clinton had been watching the show with his daughter and her husband. In my excitement to get a good view before they came out apparently I was elbowing secret servicemen out of the way to make sure that I got to see Clinton. When I told my family and friends whom I had seen on my trip to New York I could have dined out for a week!
Third Day Saturday 11th September 2010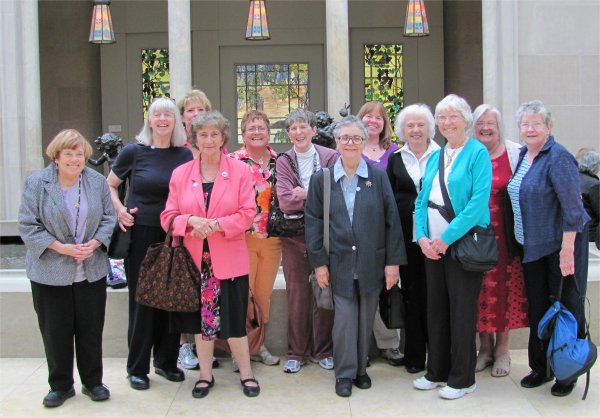 Left to right: Roman Talk Attendees in the Atrium: Lucy, Ginny, Mary (in back) Zulema, Andrea (ALF), Ann, Vivian, Meghan (JoanR's daughter), Eloise, Joan R, Gay (Bow Belle), Pedln.
A trip was planned to go to the Metropolitan Museum of Art. Despite there being large queues we waited outside only a short while and then were ushered in to meet a Curator who was to show us some of the collection of Ancient Books and Illuminated Manuscripts as well as give us a talk on book binding. Some of the books were from the 5th Century, I believe. Ginny had arranged for those who were hard of hearing to be given listening devices which was a real boon to me. The talk was most informative and such a delight to see such rare books and the beautiful art work they contained.

We then went to see a restored Roman bedroom of P Fannius Synistore which had been found at Pompeii and had been featured in Book II of the Cambridge Latin. It was truly beautiful.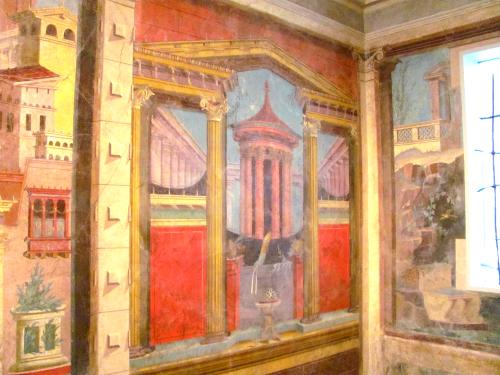 Next we saw the Etruscan Monteleone Chariot which had been so carefully restored it was amazing!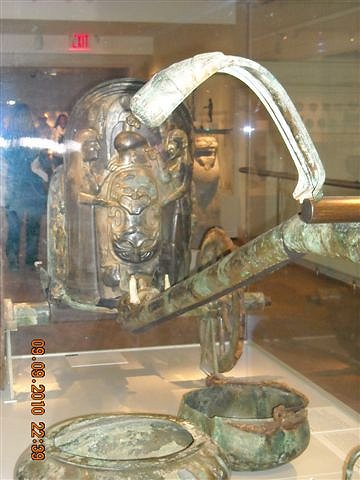 We had lunch in the Atrium and it was such a pleasant setting to sit and enjoy a meal! I remember going up to the roof and having a great view of Central Park. Also there was some artwork which consisted of a roof garden called the Big Bambu which was made up of bamboo canes displayed in a variety of different ways. There were crowds there admiring the work.

In the afternoon we were taken by limo to visit a restaurant called SarahBeth's at the edge of Central Park. It was delightful to see the horse drawn carriages passing.


We had a very nice afternoon tea and met two famous and successful New York authors: MaryAnn McFadden and Bruce Frankel. Both told us about how they got their inspiration to write and how they managed to get their books published. Mary Ann wrote fiction and Bruce, who previously had had a career in journalism, wrote about real people.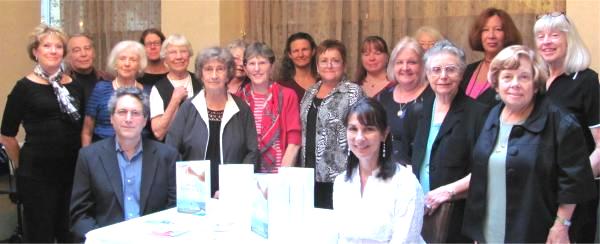 Front row, seated: Authors Bruce Frankel and Maryann McFadden

Left to right: Mary, Tom (Maryann's friend), Eloise, Judy's friend Liz, Joan R, Zulema, Pedln (hiding), Ann, Judy (Pedln's daughter) Andrea, Meghan (Joan R's daughter) Gay, Lucy's friend, Vivian,, Deb (Maryann's friend), Lucy, Ginny. Not shown: Patrick, Maryann's husband
In the evening four of us walked to St Patricks Cathedral I had put on a nice pair of shoes that were meant for posing not walking and I held every one up walking like a snail! In the Catherdral there was a service to remember 9/11. There were three different choirs and they sang religious and classical songs. It was a fitting tribute. At the end all three choirs sang together. It really was so moving!

Outside the Cathedral there was a fire engine and a van which had painted on its side the name of the Firemen's Pipers Band which I believe had come from New Jersey. There was a group of Firemen and their families holding a memorial to their fallen comrades it was most touching.

Later Andrea, Lucy and I went into a pizza parlour near our hotel.


Fourth Day Sunday 12th September 2010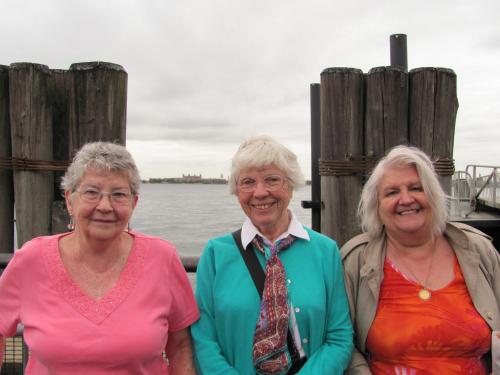 Photo to left: Pedln, Joan R, and Gay
This day being Sunday the hotel did not cook breakfast so a group of us walked to a diner a short distance away. That was a nice start to the day.

Ginny, Joan and Pedln and I met in the hotel and went on a trip to Ellis Island to see the famous immigration buildings. We had a choppy ride on the boat which stopped first for passengers who were going to visit the Statue of Liberty.

It truly was a remarkable building with a massive hall where the immigrants used to sit and wait their turn to be processed. I remember seeing a room which had beds that were lowered from the ceiling at night so the room could be used for other purposes during the day.

There was a free facility which I used to go on to a computer and try to find some of my relatives who might have passed through this place. I had no luck however as I remembered that my relatives would have come to America before the Ellis Island facility had been opened.

I also saw where the Quarantine hospital was but it was closed to the Public.

We had a very eventful lunch on the Island. We sat outside and some gulls who were not a bit afraid were swooping down and hopping on tables to take their lunch too! It was amusing and did not stop me from enjoying my lunch!

As we got off the boat at Battery Park there was the Globe that had stood on top of the world Trade Centre that had been recovered almost intact. It was surrounded by flags and a crowd of people. There was also a Trinidadian playing the steel drums and I asked him to play "Mathilda" for me.

In the afternoon there was a street market on the avenue near to our hotel. I went along to it with Andrea. I love markets and this one certainly had a different flavour and a different ethnic mixture than markets I used to go to in London. There were stalls run by people from very many different countries. I bought a few souvenirs for my family. The sights, the sounds and the smells were exciting! The food stalls with so many different kinds of food on offer were a sight to see! Andrea and I went into a salad bar later and the food there too was extremely good.

Sunday evening Andrea arranged for us to have a meal in a quaint Italian restaurant. One of the women arrived late after shopping all day at Macy's. I did not get a chance to go to Bloomingdales or Macys. I shall put that right on my next trip! It was just lovely to sit and watch and listen to the conversations of my American cousins. I was really made of fuss of by everyone!


Fifth Day Monday 13th September
I had purposely booked the evening flight home to give me as much time as I could in New York. As everybody said their farewells and left I had some time to do some exploring on my own.

The hotel very kindly let me leave my luggage with them for collection later. I took the subway down town to go to Ground Zero to pay my respects. I was so pleased to see how well they were getting on building the new World Trade Centre.

I had lunch in an Amish Restaurant. That was something I never could do in the UK! I had never seen so much choice laid out of salads, etc.

I took the wrong train on the subway but now understand what Duke Ellington was singing about when he took the "A" Train! I should have listened more to the instructions I was given.

After collecting my luggage I decided to get the subway to Penn station. I had someone volunteer to carry my case down to the platform for me and also had another carry my case up at my destination. What courtesy! I was amazed at Penn Station. In London our main line Termini were built for the steam train and although the concourse had a covering over the Station it still was open to the elements. The concourse at Penn Station was completely enclosed with all the colours on the boards showing the destinations. I also saw a double decker train which I have only ever seen once in London .The trains all looked so modern and sleek. When I got to the Airport I got on an unmanned train which took me to my departure point.

It really was an unforgettable holiday. When is the next one? I can't wait

Gabrielle Hector
Next Page
ECCE V Contents