Caratacus. Caractacus. Caradoc. Caradog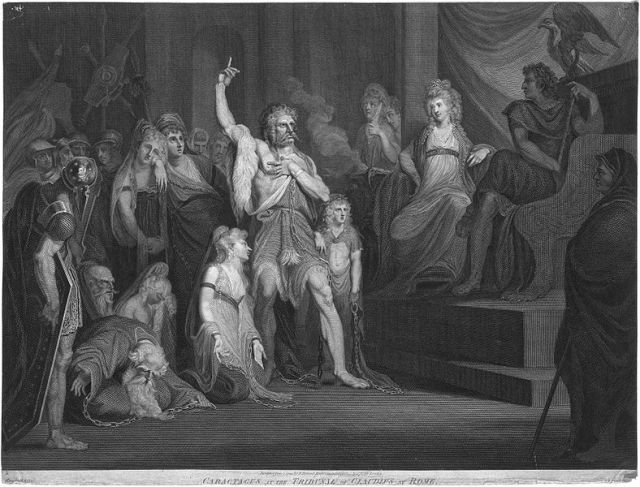 Caractacus at the Tribunal of Claudius at Rome
Engraving by Andrew Birrell of a painting by Henry Fuseli
The Annals
Book 12 - (A.D. 48-54)
by
Publius Cornelius Tacitus
Translated by Alfred John Church and William Jackson Brodribb
[12.36] There is seldom safety for the unfortunate, and Caractacus, seeking the protection of Cartismandua, queen of the Brigantes, was put in chains and delivered up to the conquerors, nine years after the beginning of the war in Britain. His fame had spread thence, and travelled to the neighbouring islands and provinces, and was actually celebrated in Italy. All were eager to see the great man, who for so many years had defied our power. Even at Rome the name of Caractacus was no obscure one; and the emperor, while he exalted his own glory, enhanced the renown of the vanquished. The people were summoned as to a grand spectacle; the praetorian cohorts were drawn up under arms in the plain in front of their camp; then came a procession of the royal vassals, and the ornaments and neck-chains and the spoils which the king had won in wars with other tribes, were displayed. Next were to be seen his brothers, his wife and daughter; last of all, Caractacus himself. All the rest stooped in their fear to abject supplication; not so the king, who neither by humble look nor speech sought compassion.

[12.37] When he was set before the emperor's tribunal, he spoke as follows: "Had my moderation in prosperity been equal to my noble birth and fortune, I should have entered this city as your friend rather than as your captive; and you would not have disdained to receive, under a treaty of peace, a king descended from illustrious ancestors and ruling many nations. My present lot is as glorious to you as it is degrading to myself. I had men and horses, arms and wealth. What wonder if I parted with them reluctantly? If you Romans choose to lord it over the world, does it follow that the world is to accept slavery? Were I to have been at once delivered up as a prisoner, neither my fall nor your triumph would have become famous. My punishment would be followed by oblivion, whereas, if you save my life, I shall be an everlasting memorial of your clemency." Upon this the emperor granted pardon to Caractacus, to his wife, and to his brothers. Released from their bonds, they did homage also to Agrippina who sat near, conspicuous on another throne, in the same language of praise and gratitude. It was indeed a novelty, quite alien to ancient manners, for a woman to sit in front of Roman standards. In fact, Agrippina boasted that she was herself a partner in the empire which her ancestors had won.

According to Dio Cassius, Caratacus was so impressed by the city of Rome that he said "And can you, then, who have got such possessions and so many of them, covet our poor tents?"[10]



New Year's Read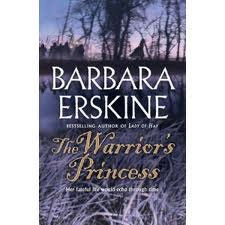 Barbara Erskine, the novelist, writes about her dual interests in history and the paranormal. Her thrillers span two or more time zones. In her book "The Warrior's Princess" Ms Erskine tells the stories of Jess, her modern-day heroine, and the Princess Eigon, (supposed) daughter of Caratacus

Read about the Real Caratacus, according to Ms Erskine.

Maryemm
Next Page
ECCE V Contents