Book discussions and Latin classes for adults 50+
Join Our Online Book Discussions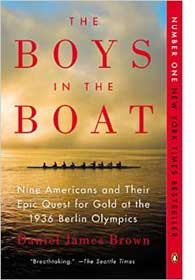 Join our discussion in January of
The Boys in the Boat
by Daniel James Brown. It's the #1 New York Times-bestselling story about American Olympic triumph in Nazi Germany. In February we'll be talking about Tennyson's well-known Victorian ballad, The Lady of Shalott.
Talk about Downton Abbey and other favorite Masterpiece and PBS programs in our
PBS Masterpiece 2015
discussion.
Questions about our books or PBS discussions? Email
books@seniorlearn.org
.
Welcome to our fellow
Promotion Partners of the Library of Congress Center for the Book
.
View all SeniorLearn Book Discussions. Or learn more.
Online Latin Classes