Book discussions and Latin classes for adults 50+


Online Latin Classes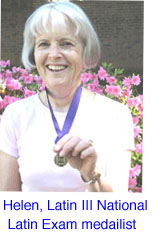 ENROLLMENT for our fall 2016 classes is now open. Please go to our Course Descriptions page at the link below for the enrollment for 101 link. Our pioneering program of online Latin classes for adults 50+ continues with students now in eight levels of coursework. The courses run from early September through May with the normal U.S. holiday breaks. There is a wealth of information about the courses and what they cover on our Course Descriptions Page & ENROLLMENT LINK. There is also a discussion where you can ask questions at Latin Classes Information.


Join Our Online Book Discussions

Join our discussion of
Shakespeare: A Sonnet a Day

Talk about favorite Masterpiece and PBS programs, including the final season of Wallander with Kenneth Branagh, in our PBS Masterpiece 2016
discussion.
Questions about our books or PBS discussions? Email
books@seniorlearn.org
.
View all SeniorLearn Book Discussions. Or learn more.